Boditech Med INC.
The leader of POCT (Point of Care Testing), Boditech Med Inc
Boditech Med has been established as an antibody developing and manufacturing business in 1998. We've changed our business direction to In-Vitro diagnostic market in 2000 considering potential of the market segment. Since then, we have reached current position as a leading company in POCT market.
Boditech Med has dominated China POCT market for infection diseases market in the mid 2000's and providing In-Vitro diagnostic solution over the 120 countries around the world. Also, 80 million of IVD tests have been implemented with our 55,000 IVD analyzers. Boditch Med is constantly striving to become a global In-Vitro diagnostic company realizing the value of respect for life.
Immunoassay Analyzer
Total Haemoglobin Concentration Measurement
ichroma™ II
ichroma™ III
Hemochroma PLUS
Advanced compact immuno-Analyzer
ichroma™ II
A compact and easy-to-use, fluorescence based POCT immunoassay analyzer ichroma™ II is a compact, easy-to-use diagnostic immuno-analyzer to measure the presence of various biomarkers for cardiac, cancer, hormones, infectious diseases, autoimmune diseases, and metabolic diseases.

Specifications
Specifications: 276 x 220 x 91 mm, 1.3 kgs, 100 – 240V AC, 50-60Hz, Internal & external battery
QC / Calibration: System check cartridge & Internal & external controls
Interface7" touch screen, Built-in thermal printer, USB port / Ethernet / SD card slot, LIS/HIS compatible
Memory: 1,000 patient results. 1,000 QC results, 100 User IDs
Throughput: Up to 30 tests/hour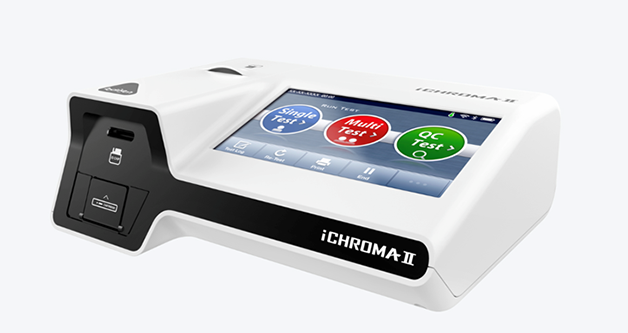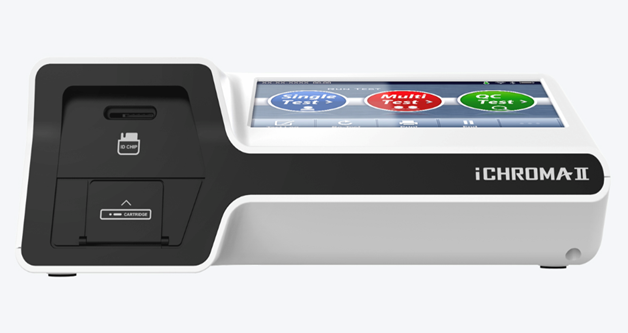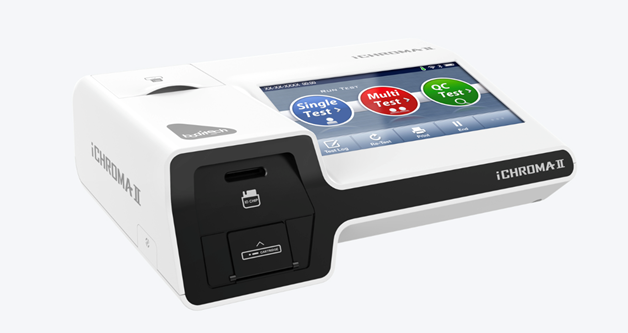 Advanced compact immuno-Analyzer - ichroma™ III
High-throughput immuno-analyzer that enables simultaneous testing for various parameters ichroma™ III accepts cartridges for various biomarkers in random sequence and processes them in a preset temperature, even combines test parameters with differing incubation period. The user will prepare each cartridge before inserting it to the system, one at a time.
Specifications
Model
ichromal" Ill
Dimensions
240 mm (L) x 465 mm (W) x 341 mm (H)
Weight
11 Kg
Analyzer input
100-240V AC, 50-60Hz 1.8A
User Interface
7" Touch-screen LCD
Data Output
Internal Printer/RS-232 port
Operating temperature
1St to 35t
Connectivity
RS-232
4 USB port / LAN port
SD card slot
Memory
2,000 Patients
2,000 QC Results
1,000 System Check
500 ID chip info
Capacity
12 assays in one test set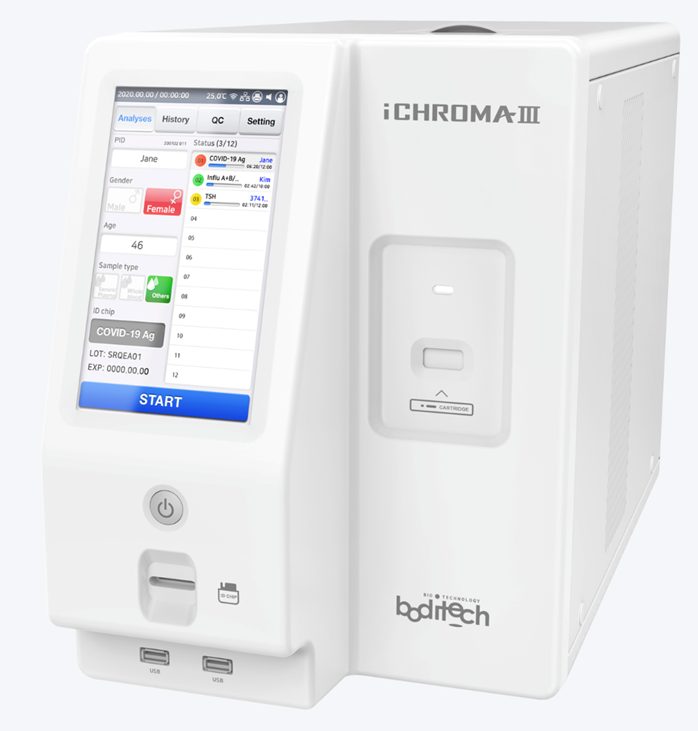 Total Haemoglobin Concentration Measurement
Hemochroma PLUS
Hemochroma PLUS is a handheld device that can run tests for anemia. One uses a disposable test cuvette to pick up sample blood from the fingertip. It accommodates tube bloods with a pipette. Each test takes 3~5 seconds and the user can transmit.
Applications
Screening Anemia
Blood banks
Transfusion Centers
Mother and child health centers
Dialysis Centers
Specifications
| Specifications | Values |
| --- | --- |
| Principle | Spectrophotometry |
| Sample | Whole blood |
| Sample volume | 12 -15 uL |
| Detection range | 0.5 - 27 gidL |
| Reading time | Approx. 3 sec. |
| Data storage | 1,000 results |
| Power | 4 x AA batteries or power from USB |
| Dimensions | 106 x 151 x 39 mm |
| Weight | 215 g |
| Calibration | Calibration information in ID chip |